Respire Physical Therapy
Respire Physical Therapy is located on 5663 Columbia Pike Falls Church, VA 22041. Our office is situated 3 minutes away from Bailey's Crossroads and 10 minutes away from Seven Corners.
You receive a specialized physical evaluation to determine the specific treatments and exercises needed to help you stay active and mobile. Our patients are grateful for being able to maintain their independence and avoid surgery. We implement evidence-based practice with every technique and exercise during your treatment. Call us now to ask about what research says is best for your injury or condition!
If this location is not convenient for you, let Dr. Kevin Teng come to you! Call (703) 671-1871 to learn more about our mobile in-home physical therapy service.
Address
5663 Columbia Pike
Falls Church, VA 22041
F:(703) 671-1790
Business Hours
Mon: 7am – 7pm
Tue: 7am – 7pm
Wed: 7am – 7pm
Thurs: 7am – 7pm
Fri: 8am – 4pm
Sat: 8am – 12pm
Sun: Closed
Pain Relief for Arthritis

Personalized arthritis therapy to help you better manage pain, adopt exercise techniques, follow healthy eating guidelines, prevent fatigue, protect joints, and use assistive devices.

Sport Injury Recovery

One of the most important aspects to rehabilitating a sports injury is treating it as soon as possible. Your treatment plan and duration of recovery will vary depending on how severe the injury is, your health history, and whether or not the injury requires surgical intervention.

Neck and Back Pain

Neck and back pain can be debilitating and extremely uncomfortable. If left untreated the pain can become more severe, and in severe cases, surgical correction may even be necessary.
Falls Church, VA Recovery Team
Meet The Team
Our team at Respire Physical Therapy places a special focus on your recovery. We perform a comprehensive physical evaluation to develop a treatment program that is tailored to your specific goals. Whether you want to return to playing your favorite sport or are hoping to pick up your grandchildren without back pain, Respire Physical Therapy is here to help you achieve your goals!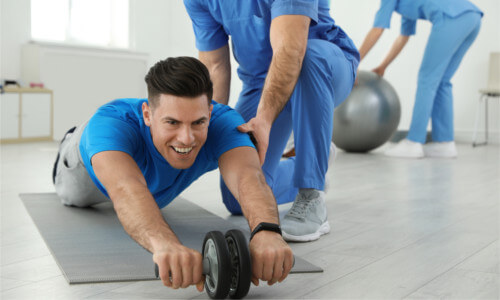 We Specialize In Relieving the Pain of Falls Church, VA
Physical therapy can be highly effective in relieving pain by providing the types of treatments you may need when your pain makes it hard to move around and do everyday tasks. Our Falls Church, VA physical therapy treatments help you move better and will relieve your pain. They also help improve or restore your physical function and your fitness level. The goal of Respire Physical Therapy is to make your daily tasks and activities easier. For example, we may help you with walking, going up stairs, or getting in and out of bed. In addition, physical therapy often provides the best treatment for a variety of different pains, not only providing relief, but also teaching you techniques to prevent re-injury and avoid pain in the future.
What Falls Church, VA Thinks About Respire Physical Therapy
Listened to what I was saying and how I was feeling. Kevin is excellent. I have already recommended him to coworkers.
Carlos S.
My surgery was 5/21 and this past Sunday I was able to walk about 50 feet without my cane. I am thrilled and can't imagine what you could do better!
Dennis T.
I am so happy that I found this clinic. The gym are was so clean and I worked directly with a therapist the entire time. My ankle no longer swells when I walk now. Thank you to the staff.
Patricia R.
I just wanted to thank you for your dedication & support throughout my physical therapy! I enjoyed working with you, and can say your positive attitude contributed to my recovery!
Marina F.
I want to thank you profusely for your dedication and commitment with which you took care of me. You will be remembered very fondly.
Sandy S.
I came to respire after I hurt my rotator cuff throwing a baseball with my son. I was very worried that I would have to get surgery but Kevin paid attention to everything I told him and I was able to throw again without going through surgery. I could not be more pleased with the care I received. I would highly recommend this place to anyone going through an injury.
Joey W.
Kevin was careful to thoroughly explain each exercise and the specific target area. He is very thorough and professional!
Vina R.
SCHEDULE A FREE DISCOVERY CONSULTATION TODAY!
Are you suffering from pain or a chronic condition that is affecting your quality of life? Fill out the form to request a FREE evaluation and begin your road to recovery today!